Poedit is a software (available for Windows, Mac and Linux) which you can use to translate the theme or plugin. It's available for free on poedit.net.
Here are the steps:
Step 1 – Open Poedit and select File -> New Catalog from POT / PO file
Step 2 – Select the accelerated-mobile-pages .POT file which you can find under this path ( wp-content\plugins\ accelerated-mobile-pages \languages\accelerated-mobile-pages.pot)
Step 3 –  A box will pop up asking for language of the translation. Select your language: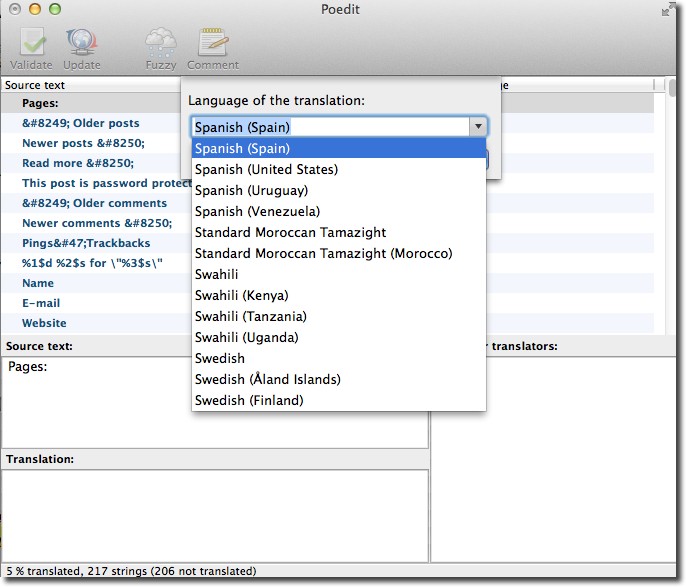 Step 4 –  Hit OK and Poedit will name automatically your file. If you select Spanish (Spain): es_ES.po
Step 5 –  Save your file in your computer
Step 6 –  Now you can start translating your theme or your plugin. The space at the top will display all the text ready to translate, and any completed translations will display to the right. The boxes underneath show the source text, your translation and any notes for translators. Translating is really easy – just select a word or phrase, enter your translation and click "Validate".
IMPORTANT:
You have to respect all special characters from the original text when translating (look at the screen capture)
It´s not necessary to translate all text strings. Perhaps you can save the file after translating the required text.
Step 7 – When you've finished, save your file. Poedit will automatically create both .po and .mo files. You´ll have to upload both to your directory.
The directory will look like
ex: \wp-content\languages\Plugins folder
If in wp-content languages folder does not exist then create a languages folder and after that if in languages folder plugins folder does not exist then create a plugins folder in this plugins folder save you file.
Like this you need to create file name
accelerated-mobile-pages-language code_country code
If you select Spanish (Spain): es_ES.po
For example – accelerated-mobile-pages-es_ES.po
Note: Make sure you are placing both po and mo files in languages/plugins folder
To make it easy, we have created a video also
That's it for this tutorial!
We hope it helped you. If you have any feedback or questions, then please share them in the comments section below.